Canada's best selling de-icer / dock bubbler! HY-FLO has been designed to draw warm subsurface water up to the surface, and agitate the surface as well. Operating on the principle of a venturi affords HY-FLO greater thrust and more agitation than many larger powered units.
HY-FLO protects docks, ponds and wet stored boats from ice damage, and aerates ponds, grey water and lagoons. HY-FLO curbs algae growth to reduce barnacle build-up on boats and docks in saltwater & freshwater applications. It features a non-toxic glycol filled motor and is designed for variable speed continuous duty.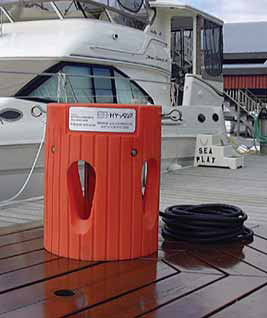 1/2 HP and up Motors (110 and 220 volt)
3450 RPM CONTINUOUS DUTY STAINLESS STEEL MOTORS
SALT WATER SEALS / OVERLOAD PROTECTED 1.5 FACTOR
REVERSE ACTION ON OVERLOAD (TO SHED BAGS, DEBRIS ETC.)
PROPERLY PITCHED STAINLESS STEEL PROPELLER FOR MAXIMUM THRUST AND WATER FLOW
TWO YEAR UNCONDITIONAL MOTOR WARRANTY
OVER 40 FEET OF ICE FREE AREA
New HY-FLO Design
Straight cut Venturi Design with 5 Tapered Oval Intakes for Greater Stability and Increased Thrust.
Oval Intakes are at Base of Prop to Increase Volume of Water Flow
Rotomoulded Polyethelene Fluted Body – All Stainless Brackets and Hardware
Products and Options
Stainless Steel Dockmounts – custom available
Rafts and Float Rings for Ponds and Lagoons
Maintenance
The motor should never be opened, as it is filled with a non-toxic glycol
Environmentally safe
Store unit upright or horizontally when not in use
Should a problem occur, please contact your dealer for assistance
1.The de-icer / dock bubbler should be mounted in water no less than three feet deep.
2. In mounting the unit, consider prevailing winds, currents and obstructions. Mount the de-icer / dock bubbler to take advantage of the winds and currents. This will carry the warm water, further enlarging the open area.
3. The unit should be hung from your boat or dock approximately eighteen inches to two feet below the surface for maximum results.
4. A minimum of a 20 AMP circuit is required for each unit. This will ensure proper power supply to the motor. (Amperage draw varies per H.P,. Please call for us for requirements)
5. In the case of extension cords, a #14/3 wire should be considered as minimal up to 30 ft. Over this a #12/3 or a circuit should be run. This will ensure proper supply of power to the motor.
6. Failing to do the above will result in early motor failure due to over heating.
Please Note: These units can be mounted through existing ice to open up areas of concern in the winter months. Under no circumstances should an motor be run where swimming may occur!
Warranty
HY-FLO is guaranteed against defects in workmanship for a period of two full years from the date of purchase. This will be subject to inspection by the manufacturer to determine the cause. Warranty does not include transportation, mileage damage or postage. There are conditions under which no dock bubbler will work effectively, and these should be considered (e.g.: Moving ice by wind or current, lack of water, improper hydro supply). A reduced pattern may occur under extreme conditions, but should re-open.
OFFICE HOURS
May - August
Mon - Fri 8:00am - 4:30pm
Weekends closed
OFFICE HOURS
September - April
Mon - Thurs 8:00am - 4:30pm
Friday 8:00am - 12:00 noon
Weekends closed