After many years of experience in supplying boat shafting to the marine industry, United Propeller is proud to make Aqualoy® available to their customers. Aqualoy® Marine Shafting has undergone more quality controls than any of the competing brands and is used in a wide variety of applications including work boats, pleasure craft, high performance boats, naval craft and other ocean going vessels.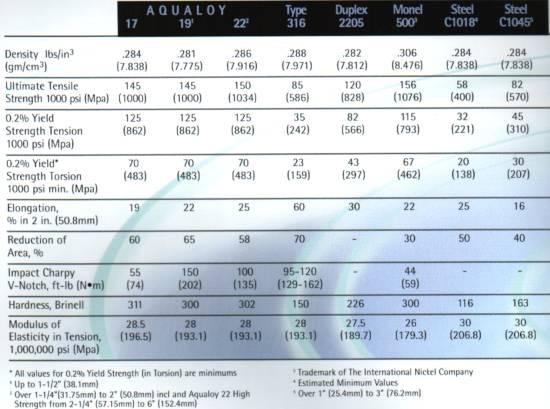 From final straightening to machining, United Propeller produces and supplies a rounder, straighter shafting then any of it's competitors. Western Branch Metals name and reputation is proudly affixed to each and every bar.
Aqualoy Marine Shafting and United Propeller – there's no substitute for quality!
Aqualoy 22 Alloy provides the very best combination of strength and corrosion resistance. From smaller pleasure craft to the larger yachts, Aqualoy 22 is the boat shafting alloy of choice.
Aqualoy 22 provides the best combination of corrosion resistance and strength for marine applications. It is ideal for pleasure boats, considering that these boats spend much of their time docked where corrosion factors may be highest.
Aqualoy 22 has corrosion resistance better than any other boat shafting material, even better than most high-nickel alloys. Aqualoy 22 boat shafting provides yield strength in torsion up to 3.5 times that of most boat shafts now used, plus excellent toughness. Special processing controls provide consistent, high-quality 22 boat shafts that are precision straightened, centerless ground and polished to exacting marine tolerances. Aqualoy 22 is an austenitic alloy and is non-magnetic.
Superior Corrosion Resistance
Aqualoy 22 provides outstanding corrosion resistance. For example, in quiet seawater tests, Aqualoy 22 proved superior to type 316 stainless steel, long considered the standard for corrosion resistance in marine environments. After immersion for nine months, both alloys were covered with barnacles and other marine organisms. After cleaning, the 22 boat shaft was found totally unaffected, while type 316 exposed similarly suffered random pitting and crevice corrosion. Results of laboratory tests also demonstrate 22's superior resistance to different types of corrosion. One such test involved a 50-hour exposure in an acidified 10% ferric chloride solution. Finally, an 18-month test in actual seawater was conducted comparing 22 with Alloy 400 (Ni-Cu). Results showed that Aqualoy 22 was superior. Even though 22 is so highly resistant to corrosion, cathodic protection is recommended to avoid galvanic corrosion in salt and brackish water. Navy Grade zinc anodes, sufficient in number and properly installed, usually provide satisfactory protection.
We require the following information in order to fabricate a shaft for you:
A measurement from the face of the coupling to the end of the shaft is preferred
Whether your coupling is standard or reverse fit
We prefer to have your existing shaft before we fabricate a new shaft for you, but we can fabricate with the information above.
We also strongly suggest that you send in your coupling to have it fit and faced to your new shaft. When we fit and face a coupling, we install it on your shaft and face off the face of the coupling to ensure a proper fit to your transmission. We also dimple your shaft for the grub screws and pin the keys on our shafts to eliminate the possibility of the keys riding up.
OFFICE HOURS
Mon - Thurs 8:00am - 4:30pm
Friday 8:00am - 12:00 noon
Weekends closed