Split Design
Easy on, easy off! Clamp-Fit Propeller Shaft Couplings grip the entire diameter of the propeller shaft and compensate for size variations in propeller shafting. This provides an accurate connection between the transmission and propeller shaft for smooth, vibration free operation. Split design save time during installation and allows for easy removal in the future.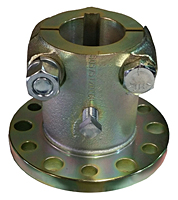 Premium Materials
High strength ductile-iron castings supplied with heat-treated clamping bolts and self-locking set screws. Larger sizes with cross-riveting pins.
Coated for Corrosion Resistance
The wet bilge of a boat is no place for an uncoated machine part! Clamp-Fit Couplings are coated for maximum corrosion resistance, allowing for easy removal in the future.
Widest Selection in Stock
Couplings are available to suit most transmissions in a wide range of standard bore sizes. Custom couplings on request.
Solid Couplings
Solid couplings are also available to suit most transmissions as well.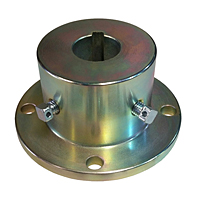 OFFICE HOURS
Mon - Thurs 8:00am - 4:30pm
Friday 8:00am - 12:00 noon
Weekends closed