After many years of experience in supplying boat shafting to the marine industry, United Propeller is proud to make Aqualoy® available to their customers. Aqualoy® Marine Shafting has undergone more quality controls than any of the competing brands and is used in a wide variety of applications including work boats, pleasure craft, high performance boats, naval craft and other ocean going vessels.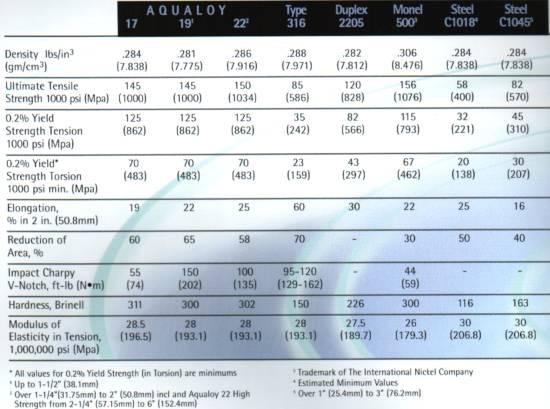 From final straightening to machining, United Propeller produces and supplies a rounder, straighter shafting then any of it's competitors. Western Branch Metals name and reputation is proudly affixed to each and every bar. 
Aqualoy Marine Shafting and United Propeller – there's no substitute for quality!
Aqualoy 19 provides better corrosion resistance than 17 and is used on fishing boats including shrimpers, trawlers and the like. It is also used on pleasure crafts.
Aqualoy 19 shafts have proven to be successful in several types of boats including sport fishing, and other pleasure crafts, as well as workboats where improved corrosion resistance is desired.
Aqualoy 19 provides superior toughness and strength, and Aqualoy 19 shafts are competitive with most carbon steel shafts since the latter are fitted with sleeves and are frequently covered with fiberglass. With 19, there is no need for such sleeves or fiberglass, and smaller bearings and stuffing boxes can be used, resulting in lower overall cost.
We require the following information in order to fabricate a shaft for you:
A measurement from the face of the coupling to the end of the shaft is preferred
Whether your coupling is standard or reverse fit
We prefer to have your existing shaft before we fabricate a new shaft for you, but we can fabricate with the information above.
We also strongly suggest that you send in your coupling to have it fit and faced to your new shaft. When we fit and face a coupling, we install it on your shaft and face off the face of the coupling to ensure a proper fit to your transmission. We also dimple your shaft for the grub screws and pin the keys on our shafts to eliminate the possibility of the keys riding up.
OFFICE HOURS
Mon - Thurs 8:00am - 4:30pm
Friday 8:00am - 12:00 noon
Weekends closed